Apparently, equestrians played a key role in popular bar design. Never mind the obvious (sometimes a horse girl needs a drink)—theory has it, back pain, likely related to hours in the saddle, was the key influencer in this equation.
"Back pain affects four out of five people at some time during their lives," explains retired neurosurgeon and horseman Dr. James Warson in his book THE RIDER'S PAIN-FREE BACK. "It is the leading cause of disability for people between the ages of 19 to 45. Back pain is second only to the common cold for causing adults under 45 to miss work. Furthermore, as we age, low back pain becomes more and more common—affecting half of the population older than 60 at any given time."
Uplifting, right? But the kicker is, whatever causes the back pain—be it sources outside or within our equestrian pursuits—it ultimately affects our ability to ride, as well as our enjoyment of it. And that, my friends, would surely drive a man to drink.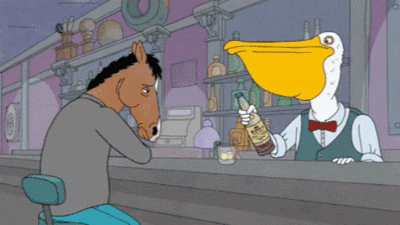 So what does all of this have to do with bars?
"A posture characteristic of people who have spine problems or pain is a tendency to flex the hips and knees somewhat," says Dr. Warson. "This takes traction off the nerves—particularly the sciatic nerve—and makes them a little bit more comfortable. Extending the back—especially when standing with a straight leg—may irritate the nerves. This is why people who have severe back problems tend to bend forward somewhat, as well as flexing their hips and knees, in order to get some relief.
"In the ruins of Pompeii are a staggering number of saloons, bordellos, and bathhouses. Each of these entertainment places featured a long, low, stone step that ran in front of what was the equivalent of the bar. Since most of the people who rode horses in that era were either soldiers or politicians, and since the proprietors of the various establishments wanted to keep their elite clientele happy, the low step encouraged the power players to gather around the bar. Riders were generally wealthy and worthy of courting as patrons. Long hours in the saddle, however, contributed to a host of chronic back problems. The low step allowed clients to flex the hip and knee. It would alleviate their pain somewhat, enabling them to stay at the establishment longer—and spend more money.
"The bar owners knew that the people who rode in on horseback were probably hurting. They also knew that flexing the hip and knee would make them more comfortable. People standing at the bar could rest their feet on the step and ease some of their chronic pain. If the patrons were feeling no pain, they would tend to hang around longer, and they'd tend to drink more.
"Later on, especially in Europe, the stone steps were replaced with a brass rail, which is commonly seen and still used today at the base of bars almost everywhere."
There you are, folks…a rider's reason for that foot rest at the bar. Party people everywhere have equestrians to thank for their hours of comfort, belly-up.
Cheers.
THE RIDER'S PAIN-FREE BACK is available now from the TSB online bookstore, where shipping in the US is FREE.
CLICK HERE for more information or to order.
Trafalgar Square Books, the leading publisher of equestrian books and videos, is a small business based on a farm in rural Vermont.